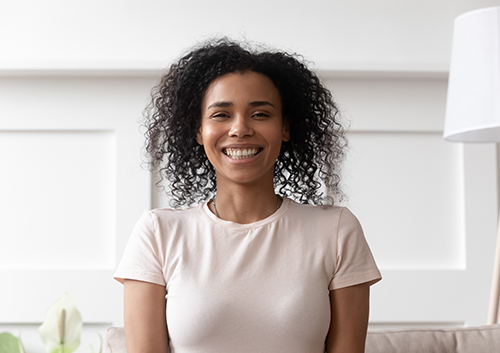 You've decided—now's the time to talk to Dr. Allen Garai & Dr. Karen Tratensek about straighter teeth and a better bite. So what's holding you back? If you are concerned because you have a missing tooth, don't let that stop you from making that first appointment. Orthodontists today have many options to help you achieve the benefits of a more attractive, and even healthier, smile.
How can we accommodate a patient with a missing tooth or teeth? Because each patient is different, our approach will be tailored to your specific needs.
A Lost or Missing Permanent Tooth
There are a number of treatment options available, depending on the position of your other teeth.
If your teeth are already crowded, it might be possible to close a small gap left by a missing tooth with braces.
If the space between your teeth is the perfect size for a replacement tooth, your orthodontic appliance will keep that spot open as your braces move the rest of the teeth into alignment.
If you need more space for a replacement tooth, braces can help widen the space between your surrounding teeth for an ideal fit.
Tooth loss can occur for a number of reasons. Accidents, decay, and gum disease can lead to tooth loss. Congenitally missing teeth, teeth that simple never developed, are also a fairly common condition. But missing teeth are not merely a cosmetic issue, and should not be ignored. A gap in your smile can lead to shifting of the teeth around it, bite problems, difficulty chewing, and gradual loss of bone tissue beneath the missing tooth.
Today's implants are a permanent, natural-looking replacement for a lost tooth. If you decide that an implant is your best option for tooth replacement, you are still a candidate for orthodontic treatment. Dr. Allen Garai & Dr. Karen Tratensek and your oral surgeon can decide on a schedule that will provide the best timing for each phase of your treatment.
A Lost Baby Tooth
Finally, let's not forget younger patients. Sometimes children benefit from orthodontic care before all of their adult teeth have erupted. If your child has lost a baby tooth too early, a space maintainer can be used to prevent shifting and misalignment of the remaining baby teeth and leave room for the adult tooth to erupt in its proper spot.
We recommend that your child have a first orthodontic assessment around age seven, but if your child has lost a primary tooth before its time, give our Vienna, VA & Great Falls VA office a call. We can let you know if a space maintainer is the best way to prevent future dental and orthodontic problems.
If you have concerns about a missing tooth or teeth, talk to us! Orthodontic treatment is always custom-designed to fit the needs of each individual patient. We can discuss your specific goals, and how orthodontic treatment can help you achieve them. There is no reason to let a missing tooth keep you from a more attractive, healthier smile!