TOP 1% Invisalign and Invisalign Teen provider in Vienna & Great Falls, VA

#1 Provider of Accelerated Invisalign Orthodontics in Northern Va.
#1 Experienced Invisalign & Invisalign Teen Provider in Vienna, Merrifield, Great Falls, Tysons Corner,Oakton Va (Over 20 Years)
Thinking Invisalign? The choice is clear
Orthodontic Specialist - NO additional charge for braces to resolve challenging problems or non-compliance cases
Board-Certified Orthodontist
Experience - Over 20 years of providing Invisalign services
Attending Faculty - Teaching Invisalign at Washington Hospital Center Department of Orthodontics
Voted Top/Best orthodontist in Northern VA.
Affordable - full in-house financing with 0% interest, affordable monthly payments and monthly discount specials.
Here at Garai Orthodontics, we offer a variety of treatment options for our patients to choose from. Our Vienna and Great Falls, VA orthodontist, Dr. Allen Garai, has the experience and knowledge to provide you with the individualized, state-of-the-art care that you deserve. For our adult patients who desire straighter teeth without the use of metal or clear braces, we proudly offer the Invisalign system for adults throughout Vienna, Great Falls, McLean, Oakton,Merrifield, Fairfax, Arlington, and the greater Fairfax County, VA area.
Invisalign straightens your teeth without wires and brackets, using a series of clear, customized, removable appliances called aligners. They are virtually undetectable, which means hardly anyone will know you're undergoing orthodontic treatment!
How Invisalign Works

The Invisalign System combines advanced 3D computer graphics technology with the 100-year-old science of orthodontics. Invisalign aligners are designed to move your teeth in small steps to the desired final position prescribed by your orthodontist.

Dr. Allen Garai or Dr. Sheira Ramos will use an Itero laser scan in place of the traditional impressions. Each aligner is precisely calibrated and manufactured to fit your mouth at each stage of the treatment plan. Your first step is to visit our office to determine if Invisalign is right for you. After sending precise treatment instructions, Invisalign uses advanced computer technology to translate these instructions in a sequence of finely calibrated aligners — as few as 12 or as many as 48.

Each aligner is worn for about two weeks and only taken out to eat, brush, and floss. As you replace each aligner with the next, your teeth will begin to move gradually — week by week — until the final alignment prescribed is attained. Then you'll be smiling like you never have before!
Commitment to Excellence
Our Commitment to EXCELLENCE at Garai Orthodontics includes
Our promise to treat you with braces at NO Charge if invisalign does not satisfy our orthodontic standards
iBracesVIP Centers(Vienna,Great Falls)-invisalign & invisible lingual braces
Latest Invisalign Technology
Itero laser scan-No more messy impressions
Acceledent- up to 50% shorter treatment
A Board Certified Orthodontic Specialist to diagnose and treatment plan every invisalign case.
Invisalign's Many Benefits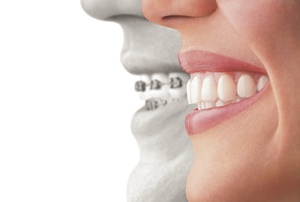 Invisalign trays are very comfortable. Unlike braces, there are no metal brackets or wires that can irritate your lips, cheeks, or mouth.
The clear aligners are translucent: nobody will see them! You can straighten your smile discreetly without changing your lifestyle.
You have the ability to eat and drink whatever you want during treatment. You simply have to remove the aligners. You can also brush and floss as you normally would for fresh breath and optimal oral hygiene.
With Invisalign, you can view your virtual results and treatment plan before you start, so you can see how your straight teeth will look when treatment is complete!
Contact Our Vienna & Great Falls Invisalign Orthodontic Specialist
To ensure the best possible results, only an orthodontist who has been trained and certified by Align Technology can diagnose and treat using Invisalign. The procedure is not intended for children and is not appropriate for every adult. Only an orthodontist can determine if this treatment is an effective option for you.
Invisalign is an ideal orthodontic treatment option for our adult and late teen patients who might be more concerned with aesthetics during treatment. Dr. Garai has provided quality, honest orthodontic care using the Invisalign system since 1998 and has been trusted by thousands of patients and parents in the Vienna, Merrifield, Great Falls, VA areas for years.

If you are a resident of Vienna or Great Falls, VA or one of the surrounding communities of McLean, Merrifield, Oakton, Fairfax, or Arlington, VA and are interested in Invisalign, please contact us today to schedule your first visit and find out if Invisalign is right for you!