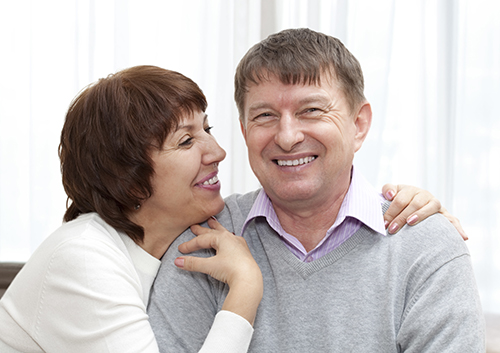 Our grandmothers and grandfathers, our moms and dads—we've known them our whole lives. So, why are they so hard to shop for?
If your older family members have all the sweaters, socks, and scents they need, consider a gift that can make life a bit easier and perhaps a lot healthier—an electric toothbrush!
The most important reason to choose an electric toothbrush is its effectiveness. Several studies have shown that regular use of an electric toothbrush leads to a marked reduction in plaque, that bacteria-filled film which sticks to the teeth and leads to cavities and gingivitis. And it's really no surprise that an electric brush can out-perform a manual brush.
Using a manual brush is not just a matter of applying toothpaste and scrubbing. Proper technique means short brush strokes at a 45-degree angle for the outer and inner surfaces of the tooth, thoroughly cleaning the uneven chewing surfaces of the molars, and brushing the inside of the front teeth with gentle vertical strokes. Meticulous cleaning of all these surfaces can be difficult, especially for people with dexterity issues.
Electric toothbrushes offer several options, from oscillating/rotating brushes to oscillating/rotating/pulsating models to brushes using sonic vibration technology. What they all have in common is the ability to remove plaque far more effectively than we can on our own, because they provide the equivalent of thousands and even tens of thousands of brushstrokes per minute, as opposed to the hundreds we can achieve by hand.
An electric toothbrush can be not only more efficient, but also more comfortable for older brushers. For those with arthritis, limited mobility, injuries, or other health conditions, the larger handles can be easier to control and much more grip-friendly. And, with the work being done by the brush head, users avoid repetitive hand and wrist motion.
Also, the pressure applied to teeth and gums with an electric brush is designed to clean thoroughly while protecting the mouth. Heavy-handed manual brushing can irritate delicate gum tissue and even damage enamel over time. With an electric brush, users only need to guide it along teeth and gums as it supplies all the power needed. There are even pressure sensors available to warn users that their brushing is too vigorous.
If your grandfather likes to keep things old school, a basic model with a convenient two-minute timer and several cleaning modes will offer all the bells and whistles he needs. But if your nana has more Instagram followers than you do, consider a more tech-savvy option.
Several of today's electric brushes come with features designed to make brushing even more effective. They can let her know if she's brushing long enough, alert her if she's brushing too hard, and remind her that it's time to replace the brush head. Some models link to handy apps that will map out just where she's brushed, in case there are a few spots that get overlooked. Or choose a model which comes with a travel case that can recharge while she's busy seeing the world.
Okay, all that being said, we'll admit it—a toothbrush might not be the most glamorous gift your grandparent unwraps on that special day. But helping a favorite family member brush more effectively and comfortably while improving dental health? That's a gift that keeps on giving!