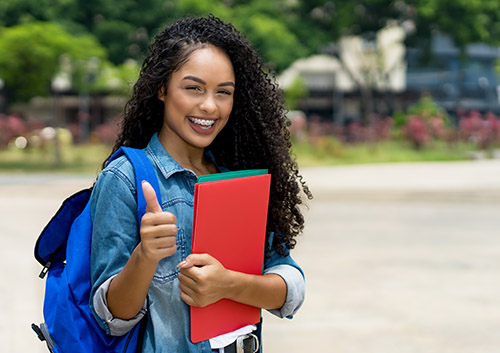 If you're heading back to classes in the next few weeks, you're probably getting your gear together now. So let's talk about some of the items you can pack to make orthodontic care easier during school hours.
Watching what foods you eat is especially important now. If you're carrying your lunch or snacks in your pack, you want to be sure that they're approved for braces and aligners.
If you wear braces, avoid foods which are sticky, chewy, or crunchy. They can stick to your teeth (making it easier for cavities to develop) or cause damage to your brackets and wires (making repairs necessary). Your orthodontist will give you a list of braces-friendly foods.
If you have clear aligners, even though you'll remove them to eat, that sticky rule still applies. You don't want food trapped in your aligners if you can't brush right after eating, because that food is also food for the oral bacteria which cause cavities.
Bringing a water bottle with you is a great idea if it's hard to brush after eating. Rinsing with water is a good way to get rid of loose food particles, and staying hydrated helps maintain normal saliva production—which also helps wash away food debris.
Toothbrush, Toothpaste, and Floss
It's best to clean your teeth after every snack and meal if at all possible. A travel-sized brush, toothpaste, and dental floss or picks designed for braces will help you get rid of any unwanted dental leftovers. And a small mirror can help you discover any lingering food particles.
It's especially important now to practice careful hygiene, so be sure to wash your hands before and after cleaning your teeth or appliances.
Your Aligner or Retainer Case
Whenever you take off your retainer or aligners to eat, you should always have your case handy. Cases make sure your appliances stay off germy desk and table surfaces—or worse, floors—and protect them from breakage. A case is also a good way to make sure your retainer doesn't accidentally end up in a trash bin after lunch.
Again, before and after you handle your braces, aligners, or retainer, be sure to wash your hands carefully.
Sometimes a wire comes loose or a bracket irritates the inside of your cheeks or mouth. In this case, dental wax is a great way to protect yourself from irritation and injury. And if a band is lost or breaks, it's always good to have a spare (or two) handy. As always, handwashing rules apply!
If your afterschool activities involve contact sports, a mouthguard is always a good idea, and especially when you wear braces. Dr. Allen Garai & Dr. Karen Tratensek can create a custom guard which will protect your teeth, your delicate mouth tissue, and your braces from many impact injuries.
Your Orthodontist's Phone Number
One important item that takes up almost no space in your backpack, locker, or phone is the phone number for our Vienna, VA & Great Falls VA office. If your braces are damaged, or if your aligner or retainer is lost or broken, we will let you know what to do until you can safely visit the office in person.
Talk to our team about how to care for your braces or aligners while you're at school, and talk to your school about how you can manage your dental care safely during school hours.